The Acrobat HD Ultra 20″ LCD system is a low vision aid that has a remarkably wide 13.3″ viewable field. Even newspaper widths of 12″ fits on screen. Why is this important? Users can see much more on screen at one time, reducing back and forth movement of magnified text, increasing reading speed, reducing fatigue, increasing personal productivity, and most of all, increasing feelings of accomplishment and satisfaction.
Acrobat HD Ultra LCD – High Definition Images in Bright Vivid Colors
Acrobat HD ultra's new Sony® Full HD 3-in-1 camera provides the best image quality available today! Enjoy brighter sharper colors and bold contrast with this feature rich electronic magnifier. A wider field of view allows you to see even more of what you want.
It's our most flexible solution for reading, writing or viewing magnified images at any distance. Use it up close like a mirror for applying make-up or other personal grooming.
By simply rotating the camera you can magnify images in the distance. Use it to view presentations, paperwork, even work on crafts and hobbies. Acrobat HD ultra is ideal for work, school or home.
Acrobat HD Ultra LCD is a complete system featuring a 3-in-1 Sony® Full HD camera with a 20", 22", 24", or 27" high resolution HD LCD producing maximum picture detail for clear, vivid color display.
The adjustable arm, tilting screen, and rotating capability allows the camera to be positioned at any angle for optimal viewing.
Features:
Sony Full HD auto focus 3-in-1 camera for seeing yourself up close, reading and distance viewing
Detachable Sony Full HD camera for use at multiple work stations
Various arms and positioning options provide maximum flexibility
True mirror image in self-viewing mode
Memory setting for each HD camera position
Compact size minimizes space needed on table or desk
20", 22", 24" or 27" high resolution HD LCD monitors provide 1.6x to 70.9x adjustable magnification (varies with LCD size)
Large field of view
28 available viewing modes to optimize contrast and brightness
Wrap around dual keypad allows easy access to controls
Line markers and object locator
Remote control unit features instant on/off (standby)
Computer compatible (additional hardware required)
Set up is easy, just plug in and begin
2 year warranty
Designed and Assembled in the USA
Video output Resolution on LCD:
SMPTE 296M – HD 720p 60/50
Viewing Modes:
Color, Black & White, High Contrast, Positive/Negative, Digital Color Select (5 modes)
Power Supply:
Input voltage/current: 120-240 VAC / 0.3-0.5A (nominal)
Frequency: 60/50 Hz
Power usage: 27W (nominal)
Equipment Classification: (IEC 601-1)
Type of Protection: Class 1
Degree of Protection: Type B
Mode of Operation: Continuous
Operating temperature range: 10-40°C / 50-104°F
Storage/transport temperature range: 0-60°C / 32-140°F
Warranty: 2 years
Color Select Feature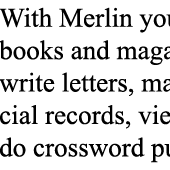 With our low vision electronic magnifiers, many color select options are available for increased contrast. Depending on your eye condition, certain text and background color combinations allow for ease of reading. All Enhanced Vision solutions incorporate 2 to 7 color select options. One of the color select options is black and white. It will convert anything you are viewing to a black and white image for increased contrast.
X-Y Table   $250.00

The X-Y Table (optional accessory) is simple to use for reading and allows you to easily move the material underneath the camera.
Mini X-Y Table    $150.00

The Mini X-Y Table (optional accessory) is simple to use for reading and allows you to easily move the material underneath the camera.
Product Manual
No user manual found.

Product Weight:

20" LCD: 18.4 lbs / 8.35 kg
22" LCD: 18.6 lbs / 8.5 kg
24" LCD: 19.6 lbs /8.9 kg
27" LCD: 21 lbs / 9.5 kg Display:
Type: TFT Active Matrix LCD Average lifetime: 25,000 hours
Monitor (common to *20", *22″,*24 & *27″ models):
Resolution: 1600 x 900 (20″ model)
Resolution: 1920 x 1080 (22", 24" & 27″ models)
Response Rate: 5 milliseconds (20", 22″ & 24″ monitors)
Response Rate: 3 milliseconds (27" monitor)
* all monitor specifications subject to change without prior notice

Product Dimensions:

20" LCD: 21"H x 19"W x 8"D (53cm x 48.25cm x 20cm)
22" LCD: 21"H x 20"W x 8"D (53cm x 51cm x 20cm)
24" LCD: 21"H x 22"W x 8"D (53cm x 56cm x 20cm)
27" LCD: 21"H x 25"W x 8"D (53cm x 63.5cm x 20cm) Magnification range:
20" LCD: 1.4X (minimum) – to 52.5X (maximum)
22" LCD: 1.5X (minimum) – to 57.8X (maximum)
24" LCD: 1.6X (minimum) – to 63X (maximum)
27" LCD: 1.8X (minimum) – to 70.9X (maximum)
20", 22" 24" Field of View (Near Mode): 12.5 inches (min)
27" Field of View (Near Mode): 13.3 inches (min)
20", 22" & 24" Working Distance (Near Mode): 17 inches
27" Working Distance (Near Mode): 18.4 inches
About New England Low Vision and Blindness
New England Low Vision and Blindness uniquely brings hope through technology, training, and care. We are a full-service assistive technology rehabilitation training provider. We offer nearly 100% of all major electronic low vision, blindness, and software products, multiple assistive technology showrooms and a team of Vision Technology Rehabilitation Trainers to help anyone who is visually impaired.
We provide 'patient choice' showcasing numerous technology options from the world's most respected suppliers, all in line with one's individualized budgetary limits and personal, educational, or professional goals. We also provide custom training solutions and troubleshooting support.
Widely known, tested, and trusted throughout New England, our team brings 75+ years of low and blindness vision experience. Our talent, technology, and training offerings are unmatched and highly respected. We are an extremely unique and extraordinary resource for anyone suffering from vision loss in New England. We are here to help.
Through our no-obligation demonstrations - either at one of our conveniently located assistive technology showrooms or in their home, office, or school - clients experience a relaxed 2-hour free personal demonstration of almost 100% of all low vision and blindness technologies available on the market.
To learn more about how we Bring Hope to people who are blind or with low vision, contact a Technology Specialist at New England Low Vision and Blindness please call our toll-free number 888-211-6933 or email us at info@nelowvision.com. You can also use the form above to request information about our services or a no-obligation demonstration on this or any of our products.