The Acrobat HD Ultra Short Arm is free-standing and easy to transport and offers great stability. You can configure the Acrobat in a variety of ways to meet your specific needs. Connect the unit to a computer monitor or TV or portable viewing panel. Choose the optional long arm or short arm mount for a custom solution. (Note: Short arm camera is not interchangeable with any other option.)
Features:
Sony Full HD auto focus 3-in-1 camera for seeing yourself up close, reading and distance viewing
Detachable Sony Full HD camera for use at multiple work stations
Various positioning options provide maximum flexibility
True mirror image in self-viewing mode
Memory setting for each HD camera position
Compact size minimizes space needed on table or desk
20″, 22", 24" or 27" high resolution HD LCD monitors provide 1.6x to 99.5x adjustable magnification (varies with LCD size – monitors sold separately)
Large field of view
28 available viewing modes to optimize contrast and brightness
Wrap around dual keypad allows easy access to controls
Line markers and object locator
Remote control unit features instant on/off (standby)
Computer compatible (additional hardware required)
Set up is easy, just plug in and begin
Left-hand mode
2 year warranty
Includes carrying case
Designed and Assembled in the USA
Color Select Feature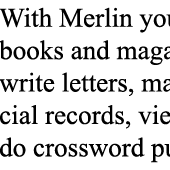 With our low vision electronic magnifiers, many color select options are available for increased contrast. Depending on your eye condition, certain text and background color combinations allow for ease of reading. All Enhanced Vision solutions incorporate 2 to 7 color select options. One of the color select options is black and white. It will convert anything you are viewing to a black and white image for increased contrast.
X-Y Table ($250.00)

The X-Y Table (optional accessory) is simple to use for reading and allows you to easily move the material underneath the camera.
Mini X-Y Table (150.00)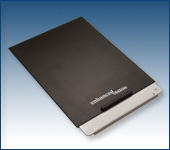 The Mini X-Y Table (optional accessory) is simple to use for reading and allows you to easily move the material underneath the camera.
Want to Learn More About Our Products and Services
To learn more about any of our products and services or to schedule a no obligation demonstration, contact a Low Vision Specialist at New England Low Vision and Blindness to learn more. You can also call our toll free number 888-211-6933 or email us at info@nelowvision.com.
Our two(2) state-of-the-art technology showrooms are a wonderful resource, showcasing a variety of leading electronic low vision magnifiers and blindness products.  You can schedule an appointment with one of our Vision Specialists who can help you find the right technology, training and care solution.
If you cannot come to us, our staff can even drive out and bring our Vision Store to you, for a no-obligation product demonstration. We offer a comprehensive line of products including electronic magnification low vision aids, blindness products, and leading low vision products for people with glaucoma, macular degeneration and other forms of vision loss.
Sony HD auto focus 3-in-1 camera for seeing yourself up close, reading and distance viewing Detachable Sony HD camera for use at multiple work stations Various positioning options provide maximum flexibility True mirror image in self-viewing mode Memory setting for each HD camera position Compact size minimizes space needed on table or desk 22", 24" or 27" high resolution HD LCD monitors provide 1.7x to 95x adjustable magnification (varies with LCD size - monitors sold separately) Large field of view 28 available viewing modes to optimize contrast and brightness
Wrap around dual keypad allows easy access to controls Line markers and object locator Remote control unit features instant on/off (standby) Computer compatible (additional hardware required) Set up is easy, just plug in and begin Left-hand mode 2 year warranty Includes carrying case Designed and Assembled in the USA