Acrobat HD Ultra Long Arm Low Vision Device
$1,995.00
The Acrobat HD Ultra Long Arm is a low vision device that has a remarkably wide 17.5″ viewable field, which is the widest on the market today. Even newspaper widths of 12″ fit on screen (Wow!!)
Why is this important?
People with macular degeneration or vision loss can see much more on screen at one time – why is that important?

I

t reduces the back and forth movement of dragging magnified text under the camera – why is that important?

Seeing more magnified text on screen reduces fatigue, plus it increases reading speed, and increases productivity during each use – why is that important?

Like exercise, getting things done and being more independent and more useful and more productive makes you feel happy, satisfied and much more content.
*Just for fun* – compare your existing viewable field on your CCTV?
Get a Ruler.
Lay ruler flat underneath the camera of your CCTV.
Reduce your CCTV's magnification to the minimum.
How many inches are viewable (left to right) at minimum magnification?
Is it less than 8.5″?
Is it less than 5″?
Is it less than 3″?
Is it time upgrade your old CCTV and improve your experience?
Furthermore the Acrobat HD Ultra Long Arm's incredible 25.5″ working distance, allows users the ability to put much bigger objects under the camera, like cereal boxes, paint cans, blueprints, newspapers, and larger craft items for woodworking, jewelry assembly and much more!
*Also…Just for fun* – compare your existing Working Distance on your CCTV?
Use same Ruler.
Put it underneath the camera of your CCTV.
What is the distance from the camera to the table?
Is it less than 7″
Is it time to upgrade your old CCTV and improve your experience?
Acrobat HD ultra Long Arm – High Definition Images in Bright Vivid Colors
With a new Sony® Full 1080p HD 3-in-1 camera the Acrobat HD ultra long arm provides the best image quality available today! Enjoy brighter sharper colors and bold contrast with this feature rich electronic magnifier. A wider field of view allows you to see even more of what you want.
It's our most flexible solution for reading, writing or viewing magnified images at any distance. Use it up close like a mirror for applying make-up or other personal grooming.
By simply rotating the camera you can magnify images in the distance. Use it to view presentations, paperwork, even work on crafts and hobbies. Acrobat HD ultra long arm is ideal for work, school or home.
Additional Key Uses for the Acrobat HD Ultra Long Arm are:
A Manufacturing Magnifier for identifying computer circuit boards; A Forensic Magnification System and a Professional Fingerprint Magnifier resulting in a much higher magnification power than a traditional optical glass magnifier; also great for use as a Latent Print Magnifier; and as a Jewelry Identification magnifier to better see flaws in diamonds or metal; as well as, an Inspection Magnification System.
Color Select Feature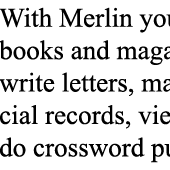 With our low vision electronic magnifiers, many color select options are available for increased contrast. Depending on your eye condition, certain text and background color combinations allow for ease of reading. All solutions incorporate 2 to 7 color select options. One of the color select options is black and white. It will convert anything you are viewing to a black and white image for increased contrast.
Want to Learn More
To schedule a no obligation demonstration, contact a Low Vision Specialist at New England Low Vision and Blindness to learn more. You can also call our toll free number 888-211-6933 or email us at info@nelowvision.com.
Our two(2) state-of-the-art technology showrooms are a wonderful resource, showcasing a variety of leading electronic low vision magnifiers and blindness products.  You can schedule an appointment with one of our Vision Specialists who can help you find the right technology, training and care solution.
If you cannot come to us, our staff can even drive out and bring our Vision Store to you, for a no-obligation product demonstration. We offer a comprehensive line of products including electronic magnification low vision aids, blindness products, and leading low vision products for people with glaucoma, macular degeneration and other forms of vision loss.
Sony HD auto focus 3-in-1 camera for seeing yourself up close, reading and distance viewing Detachable Sony HD camera for use at multiple work stations Various positioning options provide maximum flexibility 16" -- Length from base to bend 19" -- Length from bend to camera head True mirror image in self-viewing mode Memory setting for each HD camera position Compact size minimizes space needed on table or desk 22", 24" or 27" high resolution HD LCD monitors provide 1.7x to 95x adjustable magnification (varies with LCD size – monitors sold separately.) Large field of view 28 available viewing modes to optimize contrast and brightness
Wrap around dual keypad allows easy access to controls Line markers and object locator Remote control unit features instant on/off (standby) Computer compatible (additional hardware required) Set up is easy, just plug in and begin Left-hand mode 2 year warranty Designed and Assembled in the USA